I met Martha on
Twitter
. I'm not sure if she found me or I found her, what's important is that we found each other! Her lovely Etsy shop is
Le Boudoir Noir
. It's filled with beautiful jewelry and accessories for men and women alike. I love her pieces because they are not timid, they tell their story boldly! It is my pleasure to bring you this conversation with Martha and introduce you to
Le Boudoir Noir
!
Who are you, where are you from and what makes that place unique?
I am best known at Etsy as Martha C. from le Boudoir Noir, but it's great to have the opportunity to say something more about me. I was born in a small, beautiful town in Northern Greece, spent my childhood in Canada but for the largest part of my life I live in Athens, Greece --a place unique and vibrant with the most delightful light in the world.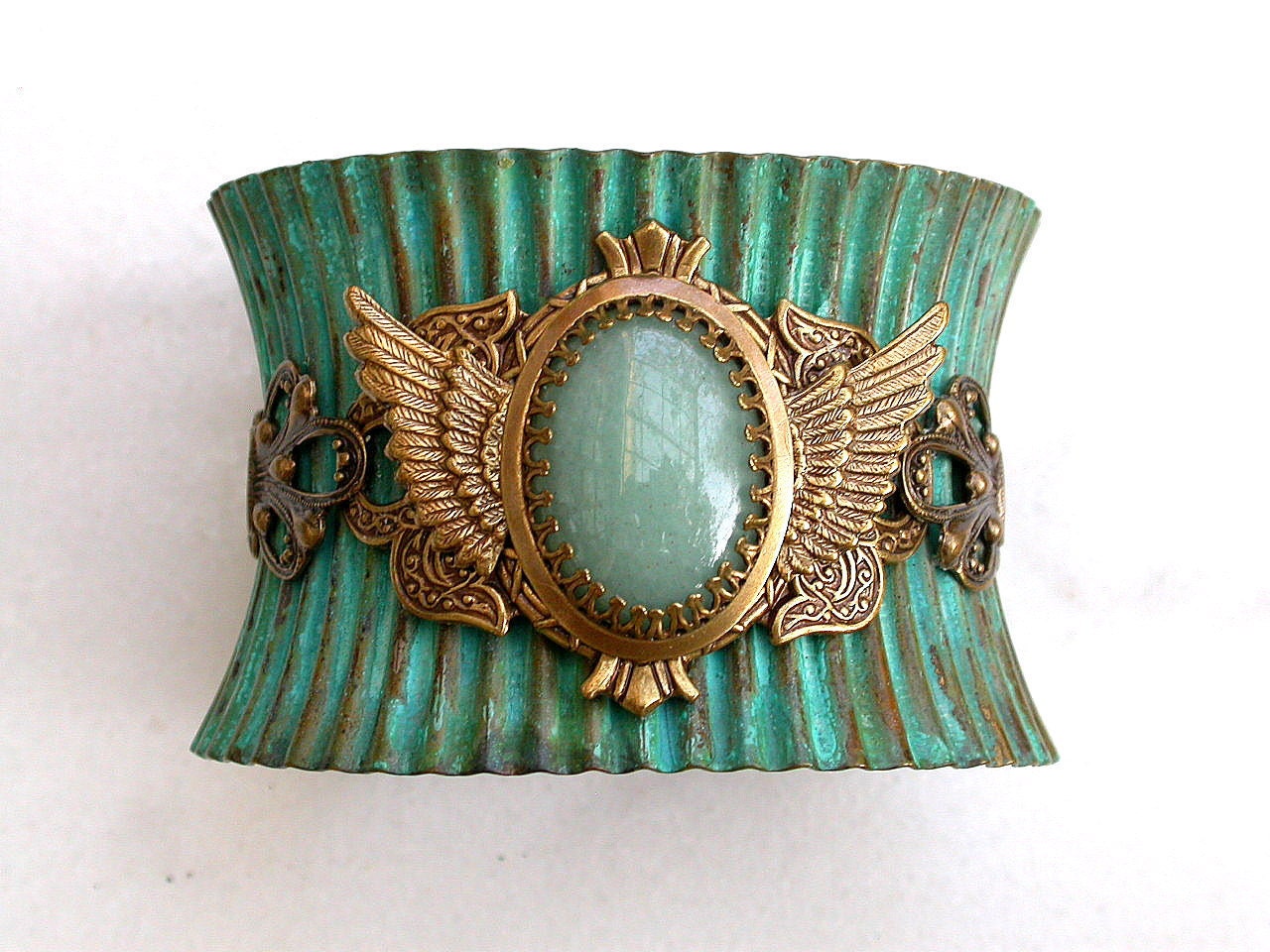 Sold! Verdigris Patina Corset
What was the first item you ever made for your shop?
My first item is also my favorite one. It's the
Verdigris Patina Corset
Pleated Cuff. The courses in metalsmithing that I attended years ago helped me tremendously to create it as it requires a very demanding techniques and it's a time consuming process. I am very excited with its special patina and when I sold it a few days ago I found it rather hard to let it go. Now I am in the process of making another one.
How long have you been independently selling your items?
Though I have been designing and making jewelry for several years, a shop was not exactly an option I had seriously considered. Actually, it was my friends and acquaintances that encouraged me to go ahead and turn my hobby into a business. Someone suggested Etsy, and I thought I could actually give it a try. So, I started listing my items on Etsy a couple of months ago and I officially launched Le Boudoir Noir in November. My first sale was made on the first day of November, and my first customer was Elly -who enjoys a lifetime 10% discount for that reason. I am very sentimental and proud about this...
If you were on a desert isle, and you could only have one book or cd with you (besides your creative tools) which book or cd would that be?
Oscar Wilde's complete works would be just fine for the author's timeless and genious spirit. If I were to take a cd with me, I would take Pink Martini's second album titled Hang On Little Tomato...
Where is the most interesting place you have traveled, what made it so interesting?
I have traveller a lot from France to Cuba and from Morocco to India. However when it comes to the most interesting place, I would choose
Donousa
, hands down! This enchanting island, part of the Little Cyclades has magical golden sandy beaches and warm, hospitable people. Everytime I go there, I feel like a castaway in Paradise!
If you knew you could not fail, what would you do?
I never let the fear of failure stop me from following my dreams. Failure is part of life and offers great lessons for success. So, if you ask me what I would like to accomplish more than anything else, it would be a peaceful re-distribution of wealth, so that there is no child around the world suffering from hunger.
Peace and happiness to all!
You can find Martha online:
Twitter
Facebook Business Page
Facebook Friend Page
For the readers of this blog Martha is offering 10% off your next purchase from
LeBoudoirNoir
and an automatic subscription to their newsletter. Please don't forget to fill in the coupon code
SEDIE10
at check-out, which is
valid until 15 March 2012
and can not be used in combination with other offers and discounts.