Today's shop feature comes from a little shop on Etsty called "
Fringe
"! It's a lovely little shop created by the most creative Dennice and it houses some lovely fiber pieces that I just fell in love with! Dennice was kind enough to take some time out of her schedule to chat about herself. It is my pleasure to introduce you to her personally!
Before I begin, let me say thank you, sweet Sedie, for the honor of being featured on your beautiful blog. It's such a thrill for me, and I truly appreciate this opportunity. I wish you every success in your personal and professional life.
Tell us a little bit about yourself.
Hello there. My name is Dennice. I live in a fairly small coastal town north of San Diego, California. I have a wonderful, loving family. They make me smile every single day.
My love of science and math led me to pursue a degree in electrical engineering. Yet here I am, in the middle of the business of designing and creating accessories. I have always loved art, creating, and fashion. There is nothing like the satisfaction of expressing yourself through your art, in my opinion. I do this through
Fringe
, my line of hand knit and crocheted designs. My main goal is to create accessories that give my clients a feeling of self-confidence, happiness and beauty.
My life has led me in directions I never could have imagined. One just never knows what's around the corner.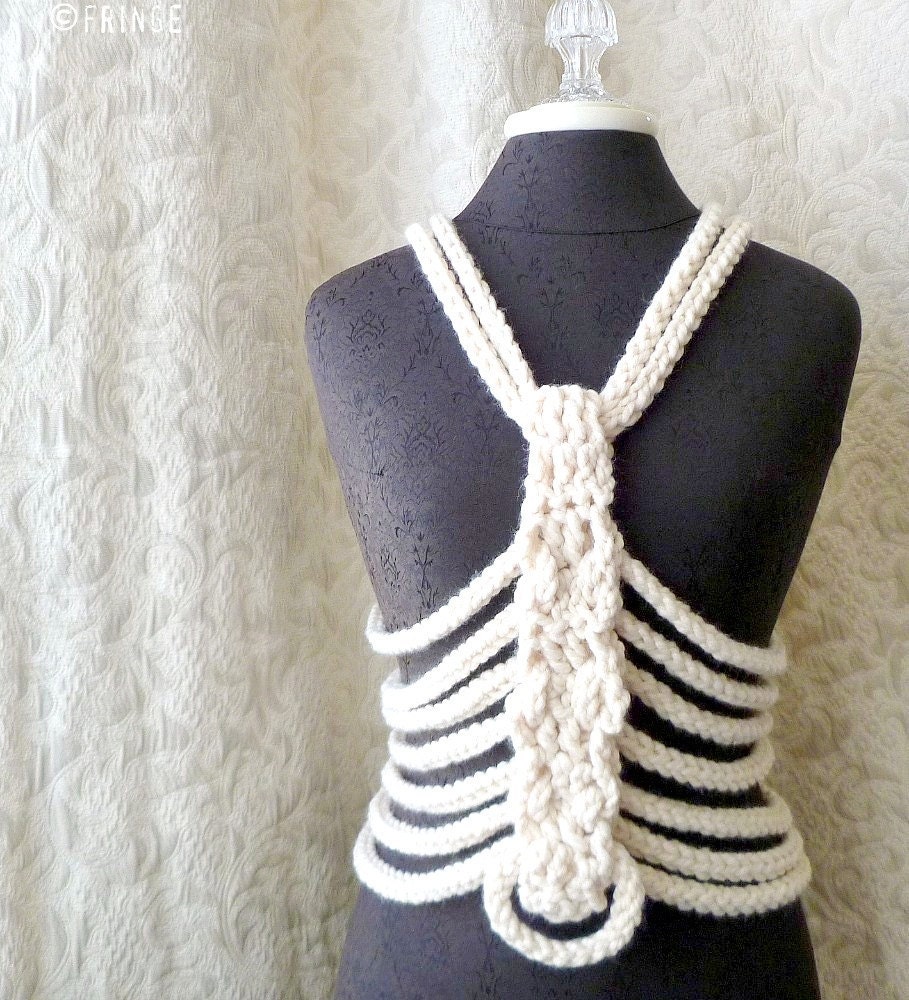 Which of your items is your favorite and why?
This is a tough question for me. I am always smitten with my latest design, yet I love all my designs as if they're part of me. I could never pick a favorite. I'm proud of all my pieces; I know how much work and time I put into them, and fact that I designed each and every piece myself. I don't mean that in a boastful sort of way. I mean I love all of them.
In an attempt to answer your question, I would have to say that one of the items closest to my heart is
Inside Out
. I guess you could say it's one of my favorite favorites.
What is your favorite book, why?
There are too many to choose just one. Can't do it. I have a long list of favorite reads of all time. If I had to pick a favorite author, I would choose Hemingway's work. Also, I'm in love with poetry. Emily Dickinson and Billy Collins are two of my favorite poets. The list is endless! I could go on and on about the books and poems I love, but the list would just get longer and longer…There are three books that I've read and reread too many times to count: The Sun Also Rises by Hemingway, The Killer Angels by Shaara and Lonesome Dove by McMurtry.
What is your favorite food, why?
Goodness! I don't mean to keep skirting the answers to your questions, Sedie, but I am having a very difficult time picking favorites! I love so many foods. My husband's heritage is Egyptian and I have been blessed with a mother-in-law and father-in-law who are glorious cooks. They whip up the most amazing Egyptian food, and it's truly authentic. I wish you could all come over and try some!
I do have a special fondness for foods we eat in a bowl, whatever that means! Especially soup. Soup is such a comfort food for me.
Also, I love trying new things. And super spicy food is a favorite as well. See what I mean? I can't pick one favorite!
I think food is an extension of who is creating the dish. Like any other creative process. Just as I love many different fashion styles, I love many different foods. When love is put into the prepared dish, I can't help but love it.
If you knew you could not fail, what would you do?
Sweet heavens! I cannot stress strongly enough, one should never ever approach life with the worry and thought of possible failure. I believe that with all my heart, and that is how I live my life. I truly hope all of you do the same or at least try your best, if it's something new for you. You'll get the hang of it! Life is too short to worry about failure. Live it to the fullest and always pursue your dreams with the feeling and conviction of success. Fear is what keeps us from our dreams. Don't fear life.
Unsolicited as it may be, I have one piece of advice that is the core of my artistic belief. This advice goes for all artists, including fiber artists:
Be true to yourself. Don't let the fear of failure stop you from pursuing and finding your own true vision.
It's my belief that personal vision/style is something that is part of your soul. You're born with it. That may be stating the obvious...Sometimes it's deep within, waiting to be found, and sometimes it's almost right at the surface, easily accessible. Often just living life, growing, maturing, and experiencing love as well as pain will help one to discover one's own true vision.
I feel it's a different journey for every person, depending on their life experience beginning as a young child. Sadly, some never truly explore themselves well enough, or perhaps have enough self-confidence, to find the answer.
In closing, I'd like to thank you for taking the time to read a little bit about me. I'm sincerely honored. I hope you all find the spark that lights up your creative soul.
Wishing you a warm and wonderful holiday season,
Dennice
You can find Dennice online:
Her Blog
Twitter
In addition to the FREE domestic and reduced international SHIPPING offer she is currently running in her shop,

Dennice is offering coupon code "SEDIE10" giving the readers of this profile an additional 10% off anything in her shop! Hurry, the coupon code is only good from today until Friday, November 25th! A great opportunity to do some Holiday shopping!